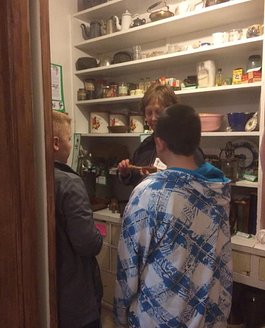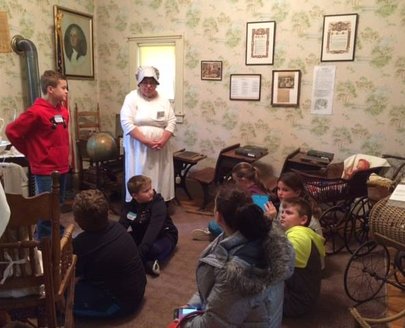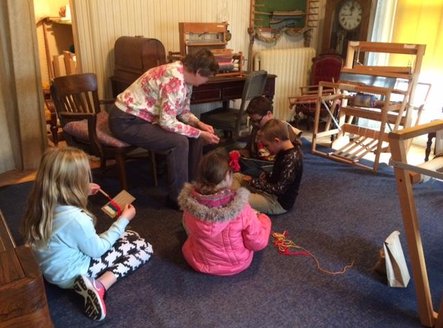 Virtual Field Trips:
We are happy to announce that we are offering a Virtual Field Trip with a tour of great-great grandmother's kitchen and pantry for those schools and classes that can't make the trip in person. Please contact us at 518-483-2750 of email us at fcohms@northnet.org to book at virtual tour now.
In Person Field Trips:
The Fourth Grade School Program is a rite of passage for the fortunate children of the Malone Central School District. We hear wonderful stories and memories from many who reminisce about their trip to the House of History. Here, they are able to step back in time and see what life in the 1800's was really like. Students are given a guided tour of the museum, where they are on the lookout for certain, special objects that are their responsibility to find and report back on. Then, they all come back together in the formal dining room for a snack of our famous Molasses Cookies (made by the previous visiting class) and milk. Students are then split into groups for hands-on activities such as cookie making, clothes-pin people, candle making, weaving or broom making. Finally, they are given the opportunity to purchase a momento from our Country Store.
We are always looking to help Franklin County history truly come alive for our visitors. Whether you are a veteran Malone teacher who has utilized our program many times, a homeschooler who is looking to provide enrichment for your children, or a teacher from a neighboring district in Franklin County, we are here to help. Please use the links on this page to answer any questions you might have, Don't see what you're looking for? Give us a call at 518-483-2750 or email us at fcohms@northnet.org. One of the beauties of a museum this size is that we are able to provide exceptional, personal customer service to our patrons. We are looking forward to providing a platform for positive engagement for all students.